Welp, since it's past midnight my time (argh), I'm going to post really early rather than my usual of really late.
I'm bending the prompt again. It's supposed to be "Most chocolatey novel," but my most beloved chocolatey book is Susan Boynton's Chocolate: The Consuming Passion.
And I actually have no idea what type of book it is. Definitely not nonfiction, but not exactly a novel...general fiction, I guess? Picture book? I loved it as a child, but it's just as fun for adults.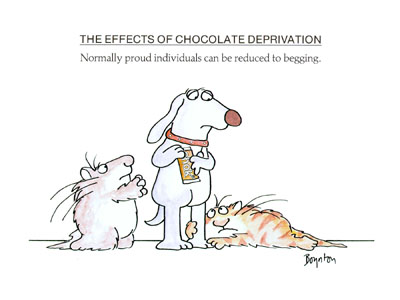 My dad used to buy these big containers of Ghirardelli extra-dark chocolate.
When we begged, he would quote from Boynton,
"Chocolate was not meant to be shared."
Just remember:
"A balanced diet is chocolate in both hands."