Review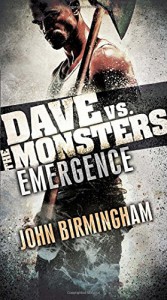 Dave vs the Monsters: Emergence
by John Birmingham
This is one of those books that can actually be summarized by its title.
In retrospect, I can see that it's not the book that was the problem, but my expectations. I assumed that a book with the title "Dave vs the Monsters" had to be at least a little tongue-in-cheek. I was expecting something funny, fluffy, genre-savvy, and a bit clever.
In actuality, this has to be one of the purest cases of "what it says on the tin" that I've ever encountered. Basic plot: Dave works on an oil rig. Said oil rig is attacked by monsters. Dave kills one of the monsters, mysteriously gains incredible powers and knowledge, spends about half the book angsting about it and being examined by the military, and waits for the monsters to attack again. The monsters attack again. Yep, that's a pretty good chunk of the book.
In spirit, Dave versus the Monsters is rather like Monster Hunter International although with even less characterization, worldbuilding, and theme exploration and even more graphic violence. Don't expect a good explanation for any of the events in the book because you won't get them.
(show spoiler)
There's nothing wrong with a bit of mindless action-oriented UF, but I prefer mine to be a little lighter on the sexism, homophobia, and racism. Dave is pretty much an unapologetic bigot. Gay jokes are his worst form of insult, wives are there to be cheated on, and he's definitely not winning Father of the Year award. As for women, apart from all the time Dave spends thinking about the prostitutes he uses, we have lovely quotes like this:
"Dave found that he wanted to hold on to the splitting maul. It felt natural the way a really beautifully crafted baseball bat did. Or a pool cue. Or a fine piece of ass… or anything, really. Any tool that had been carefully crafted by a skilled maker with one purpose in mind."
Because that's what women are, obviously. Carefully crafted tools with one purpose in mind.

Other than the issues mentioned above--and bear in mind that they're endemic in UF, even if not necessarily to this extent--there's not much wrong with the book, but it's not a good fit for me. I like my worldbuilding intricate, my violence meaningful, my characters redeemable, and my narrators genre-savvy. Even though I love the idea of an oil rigger wreaking havoc with a splitting maul, I think I'll leave Dave to his monsters and find my UF kicks elsewhere.
**Note: quotes are taken from an uncorrected advanced reader copy and may not reflect the final wording. However, I believe they speak to the character of the novel as a whole.**
~~I received a copy of this ebook through Netgalley from the publisher, Random House- Del Ray Spectra, in exchange for my (depressingly) honest review.~~